Student council would like to thank our parents/carers, students and staff, for doing 'something Funny for Money!'
In school for Red Nose Day, classes decorated their doors with red noses, games and photos. Our staff and students wore something red and made a donation. Also our local Sainsbury's donated enough red noses so all the students could have one.
Thank you for your generous donations. We raised over £150!
The money we raise will help people living really tough lives in the UK and across Africa. For example, £2.50 could buy a mosquito net to protect a family in Africa. In the UK, £5 could pay for an isolated elderly person with dementia to have dinner at their local support group. On their behalf, thank you.
For Remembrance Day and the centenary of the Battle of the Somme, the student council looked at how we could raise money for the British Legion.
This year we decided to cover a silhouette of a soldier with silver coins, sell items made by the British Legion and the traditional poppy. The money raised from the sale of poppies and the donations will go towards helping the families of veterans and currently serving soldiers.
Our total raised from the sale of reflectors, wristbands and the generous donations of silver coins is £95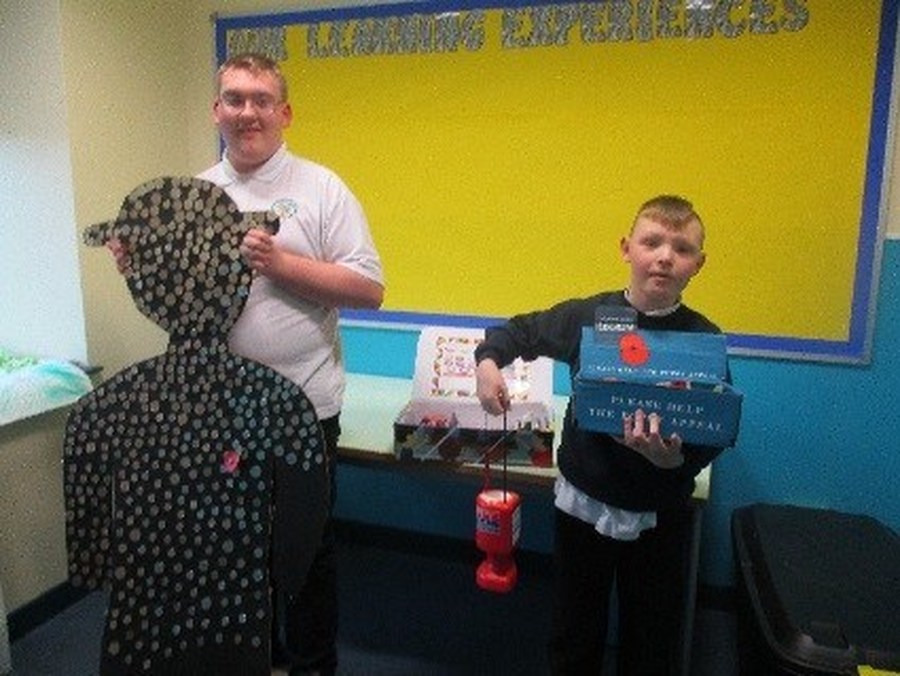 Thank you to everyone that joined the Big Spotacular this year, using spots to raise lots for disadvantaged children.
You can't beat homemade bakes! Parents, carers, teachers and students got creative in the kitchen to bake spotacular goodies for a wonderful Café VI!
We also wore our spots with pride and came to school in spotty clothes.
The total raised from these events was £252.61
On Thursday the 15th December the whole school showed their silly side by wearing their favourite festive knits, to raise money for Save the Children. The staff also had a festive sweepstake.
We had a visitor in school to talk to each class about the Christian faith and what it means to them. With our older secondary and Sixth form students the visitor discussed how their faith affects the things they do at Christmas.
Student council decided this year we should choose a local charity to support. From many different and worthwhile charities we chose TFM's Mission Christmas.
Every year 'Cash for Kids' raises hundreds of thousands of pounds for local children and young people who are suffering from abuse or neglect, who are disabled and have special needs, or who simply need extra care and guidance. There are also many children and young people who without this support would not have a gift from someone to open on Christmas day.
The generosity of our students, their parents, carers and staff was inspirational and the many donations of gifts was amazing. Along with some members of our student council class 2KG delivered the gifts to our local collection point.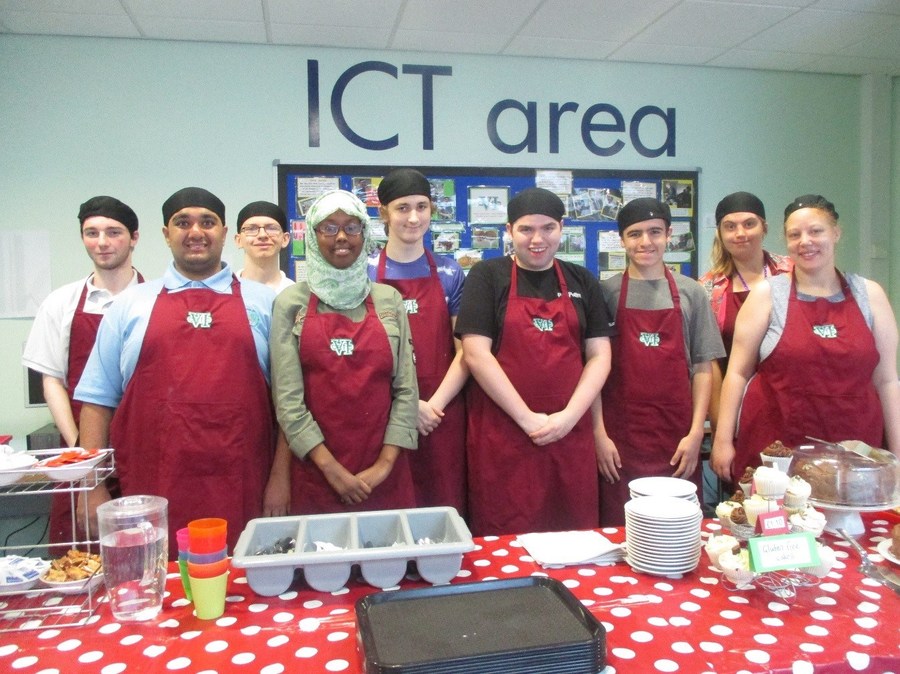 The new group of Café VI students have made a great start to the year. They have been developing their cooking skills and learning to work in the school café each Wednesday. On 28th September we held our Macmillan Coffee morning which was really busy and was thoroughly enjoyed by family and friends, as well as pupils and staff. Thank you to everyone who joined us and for the fantastic £302.52 that was raised for Macmillan.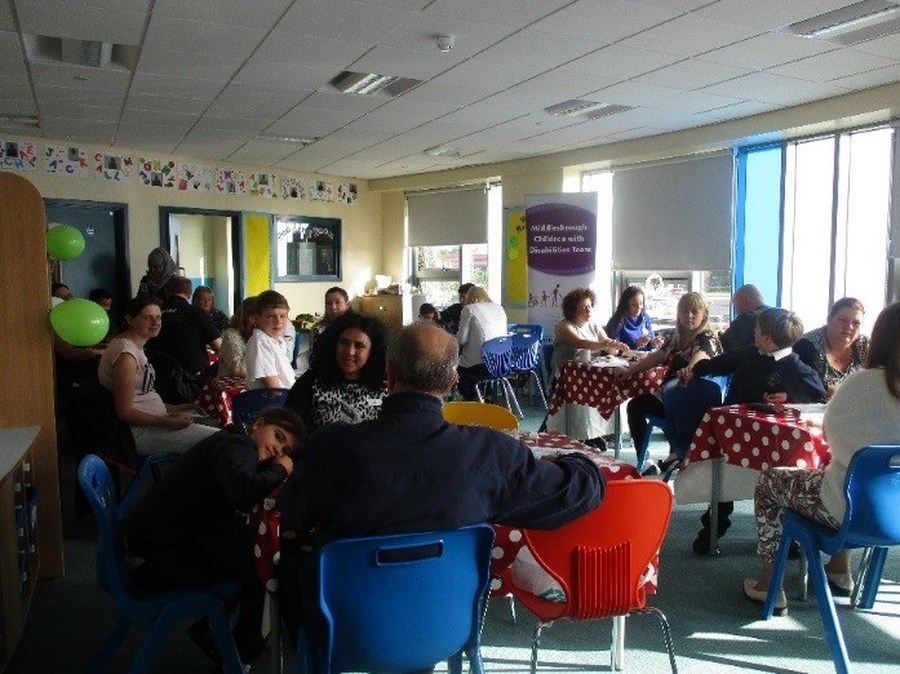 Café VI raises money for Cash for Kids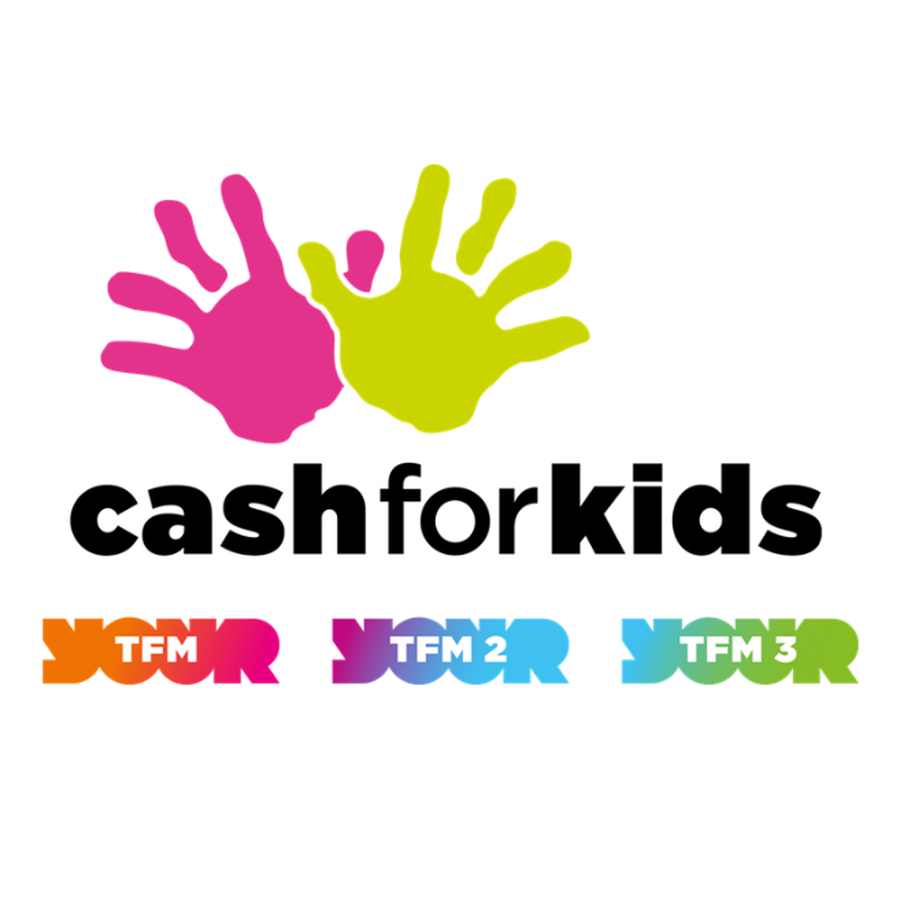 Café VI was asked to be involved in TFM radio's Big Bake day to raise money for local children at Christmas. On Wednesday 18th September café students sold cup-cakes during our usual cafe service session and raised £50 for this local charity.
Thank you to everyone involved in the making and selling of the cakes and for those who bought a cake.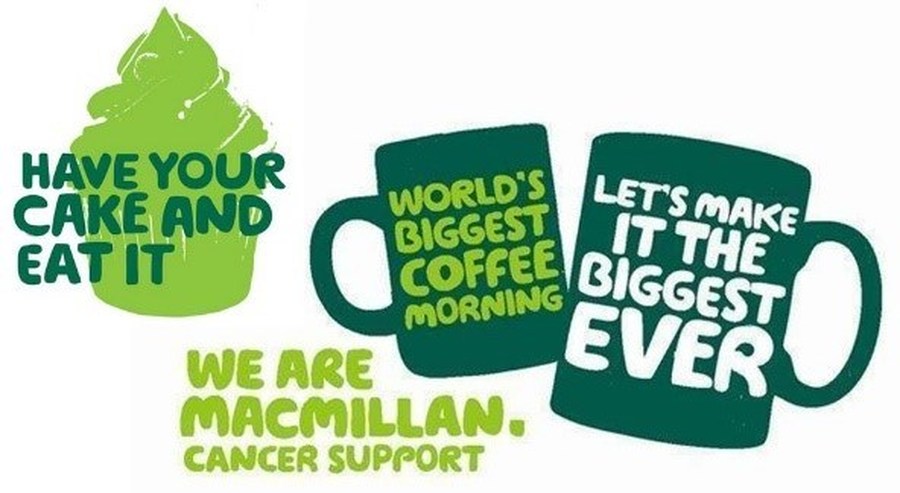 Cafe VI hosted a parents coffee morning in support of Macmillan on Wednesday 30th September. Students made the usual wonderful selection of cakes and snacks, and served parents, students and staff during a very busy morning. Thank you to everyone who attended, we made a fantastic £253 for a very worthwhile cause.
Children in need – Café VI parents coffee morning
On Wednesday 11th November Café VI hosted one of its popular coffee mornings in aid of Children in Need. Students had made a selection of products with a Pudsey theme and raised £130 which will be added to the school total of money that we have raised for Children in need. Well done everyone.
Oliver Gibb raises money for Children in Need
One of our year 8 pupils, Oliver Gibb, has raised a fantastic £432 for Children in Need by doing a sponsored walk to the top of Skiddaw in the Lake District. Here is a photograph of him at the top with his dog Lottie. Well done Oliver – super effort.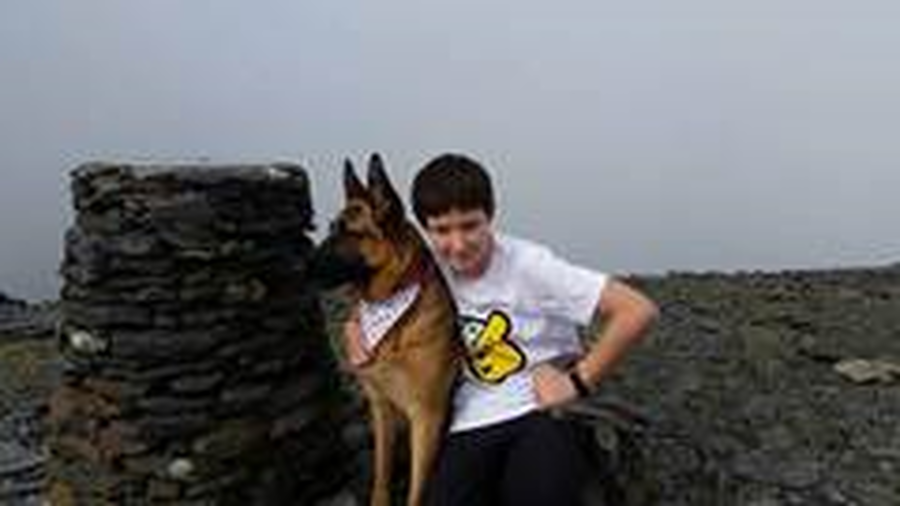 OPERATION CHRISTMAS CHILD
Students in our sixth form department have enjoyed organising our school collection of Christmas shoe boxes on behalf of the Samaritan's Purse Operation Christmas Child campaign. Samaritan's Purse is an international relief and development organisation which aims to help children in difficult circumstances this Christmas. Students and staff in all classes have helped by donating items to put into shoe boxes with each class filling at least 2 shoe boxes, and some students have also individually filled a shoe box. Each shoe box is filled with toys, stationery, toiletries and other small gifts and will be delivered to a child this Christmas. In total a fantastic 50 shoe boxes were filled.
Samaritan's Purse say, " a small shoe box can have a big impact".
Students checked all the boxes and packed them into crates.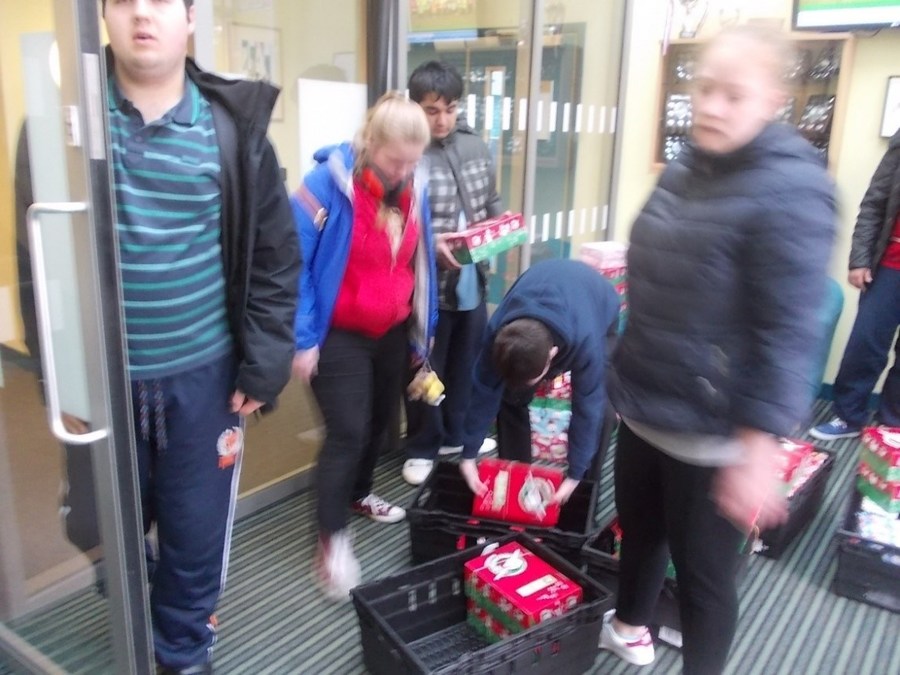 Students took the boxes to Coulby Newham and loaded them on to trollies.
Students delivered the shoe boxes to the collection point.
Well done to everyone who helped with the campaign this year.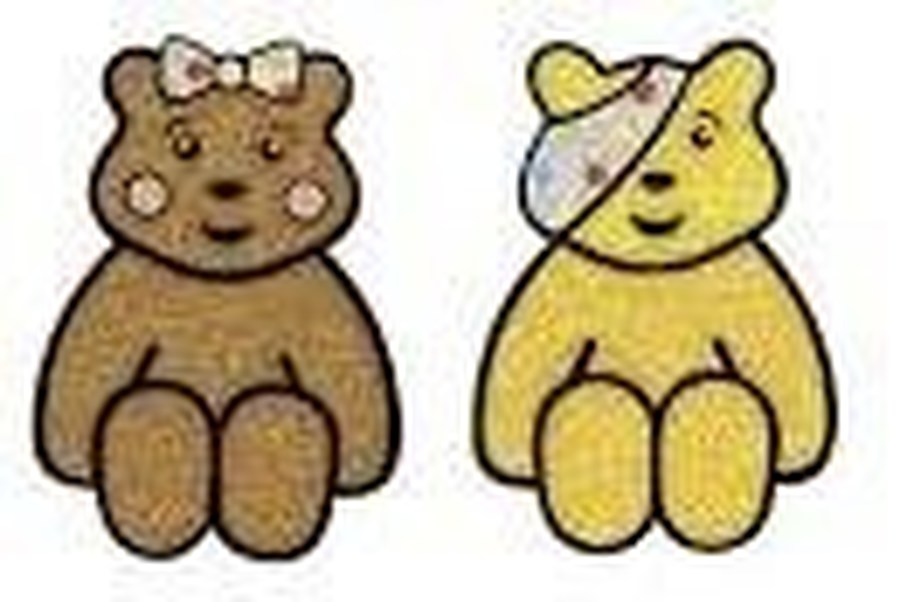 Children in need 2015
An amazing total of £360 has been raised for Children in Need. Well done to everyone who took part by baking for café, working in café, selling and buying the Pudsey keyrings and wrist bands, and donating pennies for Pudsey.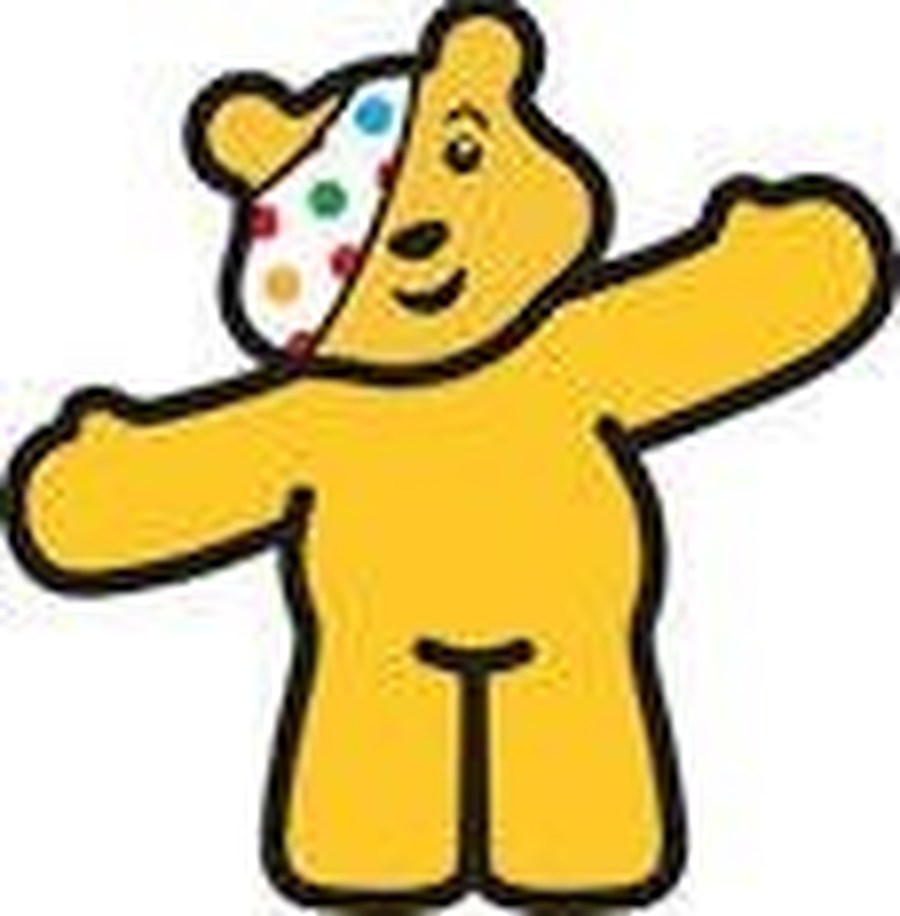 Movember
Beverley staff Johnny Squires and Jamie Murley raised money during November by growing moustaches, and even adding a bit of glitter! They raised £160 whch will be used by the Movember Foundation to raise awareness and funds for research into men's health issues.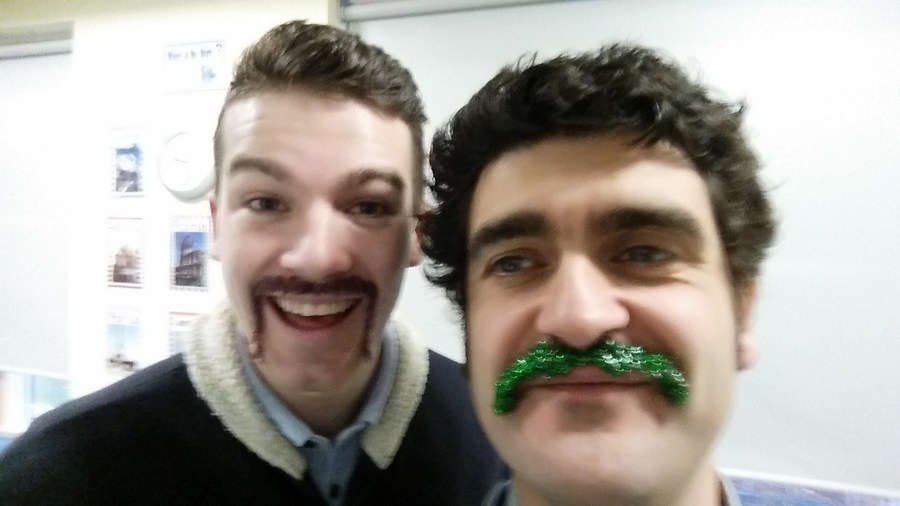 Beverley school raised £80.00 for the residents of Markby Green Pensioners group, after the community centre was broken into and their Christmas money was stolen.